What is orthokeratology?
Orthokeratology (also known as Corneal Reshaping Therapy, or CRT) is a form of vision correction that provides freedom from daytime contact lenses and eyeglasses. Specially fit lenses are worn to sleep at night and similar to how retainers work, the lenses will gently, and painlessly, reshape the cornea. In the morning the treatment lenses are removed and the patient can see clearly without needing to wear glasses or contact lenses. CRT has the added benefit of being one of the myopia control treatment options available for those who need it.
Who are great candidates?
A great CRT candidate is someone who has mild to moderate myopia and does not want to wear contact lenses or eyeglasses during the day. People who are very active and play sports are good candidates. Children who have myopia that is progressing quickly are also good candidates due to the myopia control benefit of CRT. People who are too young for refractive surgery (LASIK) or are otherwise not a refractive surgery candidate may also be a good candidate for CRT.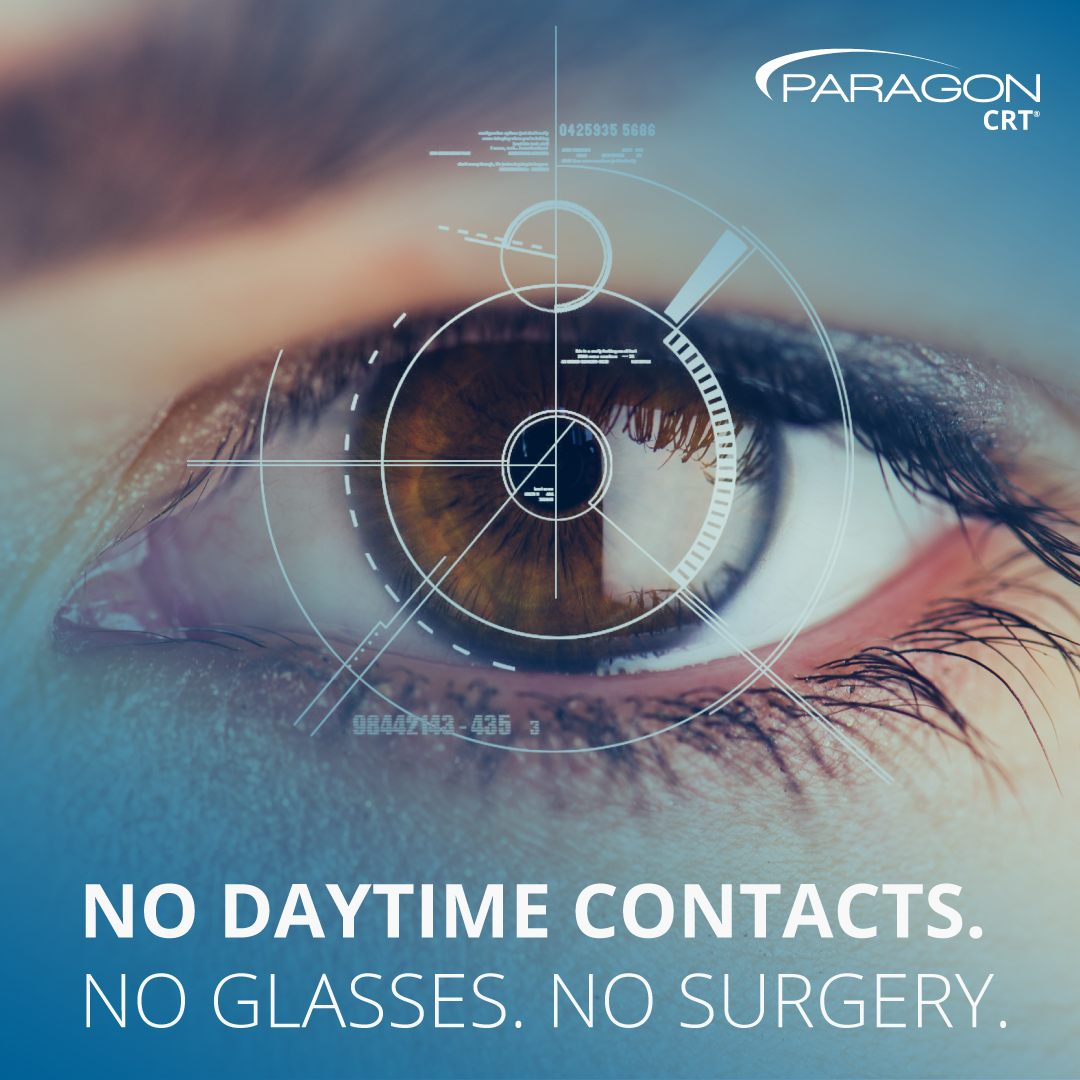 Is it safe?
FDA approval was granted in 2002 and the safety profile has been well studied. The most serious complication associated with ortho-k is eye infection. This risk is similar to the risk associated with traditional contact lenses worn during the day. Proper lens hygiene and wearing habits significantly reduce the risk of infection.
Scleral lenses
Scleral contact lenses (often referred to as sclerals) are made of the same materials as RGP lenses (rigid gas permeable or hard lenses). However, sclerals are much larger than RGPs and sit on the white part of the eye called the sclera. Since they do not sit directly on the cornea, sclerals are considerably more comfortable than RGPs. In addition to the added comfort provided by a scleral, since they vault the cornea completely these lenses have the opportunity to provide significantly better vision than all other vision correction devices (eyeglasses, soft lenses and RGPs) can. These lenses are great for patients with keratoconus, corneal-transplants, previous corneal surgery (post-LASIK, RK, PRK), previous infection or trauma that resulted in corneal scarring and patients with severe dry eye issues.
A TOTAL FOCUS ON PATIENT CARE